Description
Large Field of View
The largest field of view to date for maximum overview – up to 9.1 degrees (159m/1,000m / 477ft/1,000 yds) depending on the model – revolutionizes the viewing experience. Thanks to this extraordinarily wide field of view with barely perceptible edges, the NL Pure provides a very natural observation experience that allows you to immerse yourself in what you see.
This large field of view combined with the compact design of the binoculars and superb ergonomics take the viewing experience to the next level. This has been achieved through continuous improvements to the optical system, including designing a space-saving mechanical concept. The highest standards of quality are achieved through consistent adherence to minimum manufacturing tolerances
New Mechanical Concept
Keeping friction to a minimum was the key when working on the focusing mechanism. Precision threads and optimum surfaces all play their part in ensuring easy mobility. A new mechanical system has been designed to stow the focusing mechanism in the binocular's revolutionary ergonomic housing. NL binoculars also use the proven magnesium technology to ensure maximum ruggedness combined with light weight.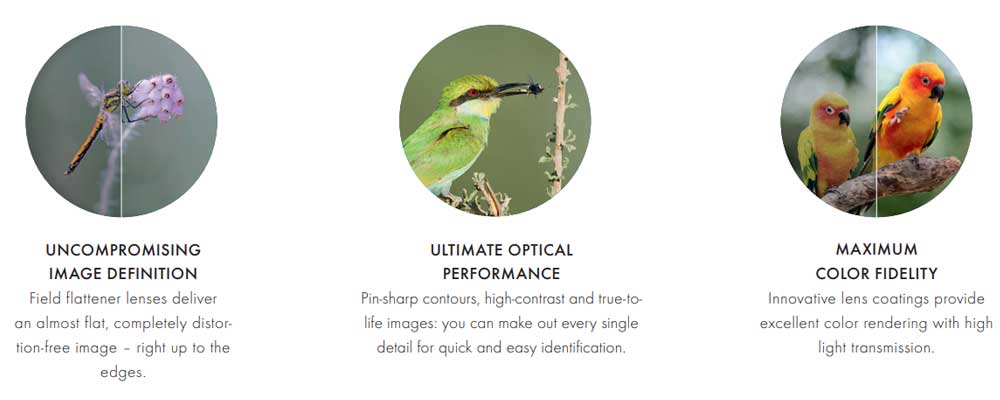 UCS Universal Comfort Strap
The UCS universal comfort strap prevents fatigue thanks to its ergonomic design and wide neck section. Whatever the weather, your comfort is ensured through the use of performance materials such as mesh, which regulates moisture and provides excellent ventilation. The UCS universal comfort strap is a classic webbing strap that can be quickly and intuitively adjusted to the length you need via a quick-lock clasp on each side. As with the EL series, it is fitted to the binoculars via a bayonet catch. Strap loop connectors (supplied as standard) also make it possible to attach normal straps to the bayonet catch.
Soap & Brush Kit
A soap & brush kit is supplied for cleaning the armoring on the case. Close the covers on the eyepiece and objective lenses. Moisten the brush and apply the soap using circular movements to gently clean the housing. Then rinse the NL Pure with clear water and dry it carefully. Regular cleaning extends the life of the product.
Supplied with
UCS universal comfort strap
FSB functional sidebag
Eyepiece and objective lens cover
Soap & brush kit
Microfiber cloth
Strap loop connector
Cover for steel rings (when detaching the objective lens cover)