Printing With Photo Paper - Photo Paper Guide to Finishes, Sizes & Weight (2020)

Everything you need to know about printing with photo paper, paper finishes, size and weight.

Digitally sharing and storing photos is king in today's photography world.
And while it's great to have your favourite snaps on your phone or laptop, it can't match the wonder of holding your photos on beautifully printed paper.
If you want a high quality print, photo paper is essential. The various types are designed to reproduce photographed objects as truly as possible.
Looking to start your own photo printing journey? This guide covers all the key points - from the types of photo paper you'll need to their sizes and weights.
That perfect photo album may not be so far away.
Which Paper Is Best For Photo Printing And Photo Paper Finish Types
There's a HUGE range of photo paper finishes; so many that it can be confusing to know what each finish will look like.
It doesn't help that photo paper manufacturers can create their own terms for their paper finishes.
However, the two main finishes—and so the two you only really need to know—are glossy and matt.

GLOSSY PHOTO PAPER (VIEW ALL GLOSSY PAPER)
The most common photo paper finish is glossy, which gives the photo's surface a shiny effect.
The shine allows you to see more detail in the photo, making the subject clearer and making colours more vibrant; use a glossy paper when you want to see every single detail in the shot.
However, On the flip-side, the shine that comes with the glossy photo paper finish can make viewing the photo difficult in certain angles and under different light sources.
It also makes the surface more sensitive to marks like fingerprints and dirt. As a general rule when printing with photo paper, you should stick to the following guidelines:
I want to see every colour in my photo = use glossy photo paper
I want to print a colourful landscape photo = use glossy photo paper

MATTE PHOTO PAPER (VIEW ALL MATTE PAPER)
Matte is the opposite of glossy. Matt photo paper does not reflect light, eliminating any shine from the photo and giving a more muted effect.
This is perfect for black and white photos or photos where text is the main feature. Matte paper usually works better for photos going in a frame, since a shiny (glossy) surface can look strange through glass.
However its worth bearing in mind that in some cases the matte finish can diminish the photo's quality, reducing colour vibrancy and contrast. As a general rule when printing with photo paper, you should stick to the following guidelines:
I want to put my photo in a photo frame = use matt photo paper
I want to print a black & white photo = use matt photo paper

SATIN PHOTO PAPER
There are also satin finishes, which lie somewhere between Glossy & Matte. Matte photo paper, also known as semi gloss can offer the best of both worlds for photos.
Satin photo paper is great for showing detail and is ideal for using in photo frames.
Similarly, Pearl and Luster are usually different forms of the Satin finish.

Bottom Line: When printing with any kind of photo paper you should consider how the shine or matte finish will affect the image colour and detail.
Other types of photo paper (H3)
Canvas: Canvas is a popular choice for artsy images. It's similar to matt, but is more colour efficient. However, as canvas is textured, any bumps are likely to be more visible.
Art Photo Paper: The textured appearance of art photo paper makes it great for exhibiting photographs.
Metallic Photo Paper: Metallic photo paper is akin to glossy paper. However, as the name suggests, it produces a metallic tint. The chrome effect makes the photograph stand out from the paper.
To summarise, you should consider how the shine or matt finish will affect the image colour and detail when printing with any kind of photo paper.
Photo Paper Sizes
The majority of people will recognise the standard A4 paper size, which will help you have a better understanding of other sizes of paper.
Although it may go against your common sense, the smaller the number of the paper the bigger the paper size. For example A1 is bigger than A2, A2 is bigger than A3, A3 is bigger than A4 and so on.
Here's our photo paper size guide:
Vinyl / PVC Banners
A1 = 841 x 594 (mm)
Vinyl / Wall Planners
Vinyl / Posters
Posters / Menus
Magazines / Flyers / Office Paper
Flyers / Leaflets
Postcards / Leaflets
Tickets / Small Leaflets
Business Cards = 85 x 55 (mm)
Credit to Digital Printing https://www.digitalprinting.co.uk/support/paper-weight-guide/
Photo Paper Weight

If you're likely to be framing your photos, then the grams per square metre (GSM) weight of the paper won't have an impact.
However, if you're likely to be holding your photos from time to time, then you'll want to pay attention to a paper's GSM weight.
Gram per Square Metre (GSM) determines the weight and feel of paper. The higher the number, the better feel and quality the paper will have.
On the low end, toilet paper has a gsm of around 20 and a newspaper has GSM of around 40. On the higher end, magazine covers have a gsm of 250 and business cards can have a gsm of 1000!
The weight of your photo paper is another important factor to consider when you're thinking about how you want your photos to look.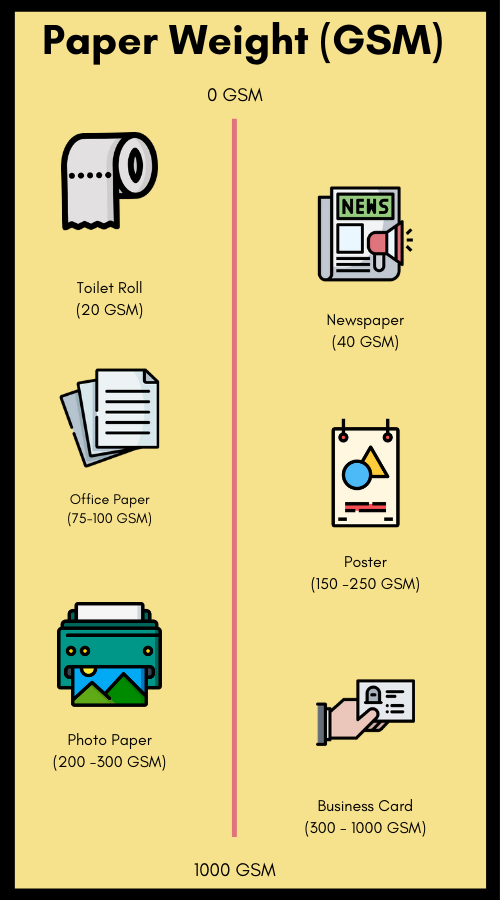 Photo Paper Quality
There are various metrics used to determine the quality of photo paper: archival properties, colour range and instant dry-to-touch, among others. Photo paper has a 'receiving layer' - a chemical feature that allows it to withstand the amount of ink laid on it by a printer. The receiving layer is what distinguishes photo paper from normal paper. The most common types of receiving layers are:
Cast Coated Receiving Layer: While this is effective, it can fade with time. It generally appears in more affordable sections of shops.
Micro and Nano Pores Receiving Layers: Favoured by professionals, these papers instantly dry ink. Plus, they're less likely to fade or smear.

Are you ready to start printing with photo paper? Or do you have any questions about our photo paper guide?
Get in touch to talk to one of our printing experts, or take a look at our entire reange of Photo Paper.