Camera Sensor Cleaning


DSLR & Mirrorless
Turnaround*
Drop off at Sheffield Store
We Collect & Deliver back to you
3-5 Working Days
£39.99
£49.99
Medium Format Camera
Turnaround*
Drop off at Sheffield Store
We Collect & Deliver back to you
3-5 Working Days
£59.99
£69.99

*Turnaround time is from the day we receive your camera to the day we dispatch it back to you.

Collection & Delivery Process
When filling out the form you are able to select the day you wish for DPD to collect and also state an AM or PM collection.
We recommend packing your camera in a sturdy cardboard box with protective packaging inside (e.g. bubble wrap) along with a fully charged battery. On the day of the collection, the DPD driver will bring a label to stick on your parcel.
Collections are usually next day back to us, as soon as we receive it, we will begin working on your camera to have it ready for the 3-5 working day turnaround.
Once your sensor clean has been completed, we will pack it back up and send off with DPD. You will receive an email confirmation of this. DPD will then email and text you (providing we have a mobile number) with your tracking details and again the day of the delivery with a 1 hour delivery slot.
What is sensor dust?
Sensor dust is particles or elements which enter a camera and stick to your sensor
What causes sensor dust?
Every time you remove and replace a lens on your camera body, you are exposing the inside to potential specks of dust and dirt contaminents
When does sensor dust become a problem?
If you're not a professional photographer, sensor dust isn't a big problem.
If you take photos for a living, you will have to keep your camera's sensor clean at all times
My camera has a self cleaning mode - will this do?
Some new DSLRs have an in-camera sensor cleaning function, this should be in the tools menu of your camera.
This will give the sensor a series of small vibrations which in theory should 'shake' the dust particles loose without damaging your camera. This will remove most dust particles, but your camera will still need to be cleaned manually every once in a while to ensure a completely dust-free sensor
If you don't have this feature on your camera, don't worry, this is where we come in!
We can collect & clean your sensor for £49.99 on a 3-5 day turnaround. These prices include the collection and delivery charge
You should always try to protect the inside of your camera as much as possible when changing lenses but if the inevitable does happen and dirt and dust do enter your camera, this will show up in your images.
Dust on the sensor will show up as blurry spots which look something like this: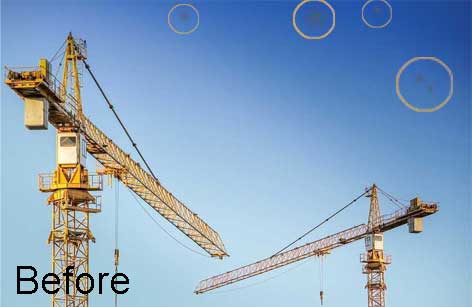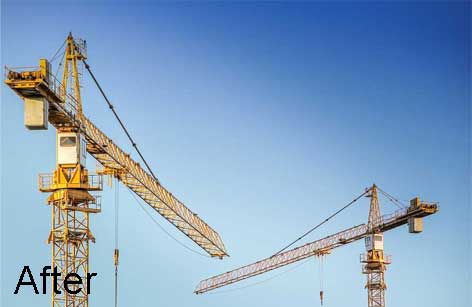 We offer sensor cleaning on your digital SLR camera, mirrorless camera, medium format camera and any sensor size.
Unfortunately we cannot offer sensor cleaning on a digital compact camera.