Description
The Swarovski 65mm Objective Module is designed to be used with the Swarovski eyepieces (sold seperately) which offer excellent choice as they simply clip into the body, so depending on whether you want an angled, straight or a binocular style scope, you can choose between the Swarovski ATX (angled) STX (straight) or BTX (binocular) eyepieces. The modular style of spotting scope, makes it perfect for carrying, as it can be stored in half whilst not in use and then quickly fitted together for an exciting viewing experience.
Spotting Scope Kit
A brilliant system, the Swarovski Scope comes in two componants for versitility and as it has a large 65mm diameter objective lens it can give outsatnding clarity, detail and colour rendition whichever eyepiece you choose. Obviously more cumbersome than a set of binoculars, the Swarovski spotting scope wins hands down, when sitting in a hide all day and can be easily carried over the shoulder when attached to a tripod. The massive magnification and better light input, means that subjects can be magnified upto 60x, whilst retaining all the colour rendition and detail that is required when identifying wildlife. Generally too difficult to handhold for any length of time, a good quality tripod is recommended for long periods of use and the tripod bush on the bottom of the scope body is 1/4 inch so will fit most tripod heads.

Optical Coatings and HD Lenses
Swarovski Optics have been refined on the back of their jewellry polishing business which has over 100 years of research and development behind it. It is reassuring to know that Swarovski have designed much of their own factory machinery and as such have been able to keep a tight rein on quality and consistency of their optical production. From this high level of experience Swarobright and Swarovision coatings have been invented, to aid light input and glass durablility to ensure that the image recieved by the eye is the absolute best it can be. Swarovski technology includes HD lenses containing fluoride and field flattening capabilities, the first of which helps reduce colour fringing around the subject being viewed and edges of the lenses and the latter gives pin sharp, edge to edge clarity, which is costly and extremely difficult to achieve. They also coat the exterior lenses so that they repel water, dust and dirt, which means no annoying marks stay on the optics whilst in use and once back home, a quick clean with a lens cloth gets rid of 99% of residue; for anything a bit more stubborn, then a quick rinse under the tap sorts that out.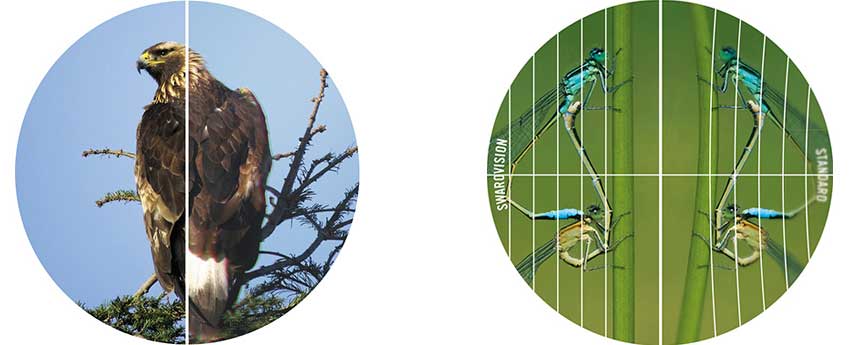 Fast Focus
Relatively lightweight, the Swarovski 65mm spotting scope body has been ergonomically designed with the focusing barrel easily found on the body of the scope, even whilst looking through the eyepiece and the zoom facility is on a large, ribbed dial just behind the focus ring. Simply focus onto the subject and then use the seperate zoom dial to close in or zoom out of the subject and enjoy the fact that the focusing doesn't change whilst you do this; you can even check what zoom magnification you are at, by looking on the top of the body of the scope. Remember to sharpen the focus when the zoom is at the highest magnification for pin sharp images across the zoom range.

Wide Field Of View
Swarovski have designed the 65mm spotting scope with nature viewers in mind, giving it a wide field of view so that it is easy to locate and zoom in on small animals and insects without spending ages, actually trying to get them visible in the eyepiece. Obviously the field of view changes depending on which eyepiece is attached to the scope body, but each eyepiece product page gives the individual angle of view per objective size.
Warranty
Along with outstanding production standards, Swarovski warranty their 65mm Spotting Scope for 10 years from date of purchase, so offer complete peace of mind for any manufacturing faults. This is particularly important for keen nature viewers, who don't want to worry about taking the scope where ever they go.