Common Wealth Games
August 1st update: "Really good day yesterday at the women's and men's time trials.
Andy Jones [one of our customers] was there working hard."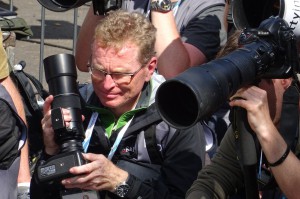 July 30th update: "Went to Athletics last night really good view, sat very near Sebastian Coe, tired when I arrived home. Athletics again tonight then cycling time trial tomorrow."
July 29th update:
Ian at the mountain biking at Cathkin Braes
"Another great day Anton Cooper, New Zealand wins gold"
July 28th update:
"Squash today women's and men's final. Sheffield own Nick Mathews won the gold medal"
July 25th Update:
"Triathlon yesterday was on the pontoon for the men's race. Really hot really enjoyed the day."
July 24th update: "Media Centre just after women's triathlon"
July 23rd update:
"First shift yesterday not much to do as there weren't any press. Saw the Brownlee brothers, Australia and New Zealand teams. Got to know the venue a bit better, as you can see the finishing touches are beingdone.
On the train to Edinburgh now.
First day of competition tomorrow will try to send pictures."
July 18th:
This weekend we say Cheerio to Ian for the next two weeks! He will be in 'press operations' at road events at Strathclyde Country Park for the triathlon, Cathkin Braes for the mountain biking and Glasgow Green for the cycling, time trial & roadrace!
If any of you are heading up to Bonnie Scotland for the games, see if you can spot Ian in his uniform (pictured)
The post Common Wealth Games appeared first on Harrison Cameras Blog.