How To Take Group Photos and Selfies

Here are some amazing ways to simplify group shots
Ever since Ellen Degeneres broke the internet with her famous Oscars selfie, they've been a common occurrence at special events. After all, who wouldn't want to capture all their favorite people looking fabulous together?
Of course, getting a solo selfie is challenging as it is. Add in five or ten more people, and things can get complicated in a hurry. Fortunately, there are techniques for capturing the perfect group selfie. Read our guide on how to take group photos and selfies.
Pick the Perfect Location
Try to scope out the location before collecting people together to take your group selfie. This will help you give clear directions and hold everyone's attention while getting a group photo. Look for a scenic backdrop as well as a place that will be out of the way of pedestrians, traffic, and the main event.
If you're at an event, pay attention to where the photographer is taking pictures as this could be the best place for lighting and space Wait until the official photoshoot is done then use that spot for your spontaneous photo session.
Face the Light
If you're out in the open air you may wish to get the sunset or view in the background, however your phone might not cooperate. When choosing a spot, face the primary light source from the get-go. If needed, everyone can shift a little to the left or right. However, facing the light will help eliminate shadows, backlighting, and the need for a flash.
If the lighting situation is complicated, consider having someone else shine their phone's flashlight from behind the camera. This is also a great technique for getting awesome group selfies at night without setting off the flash.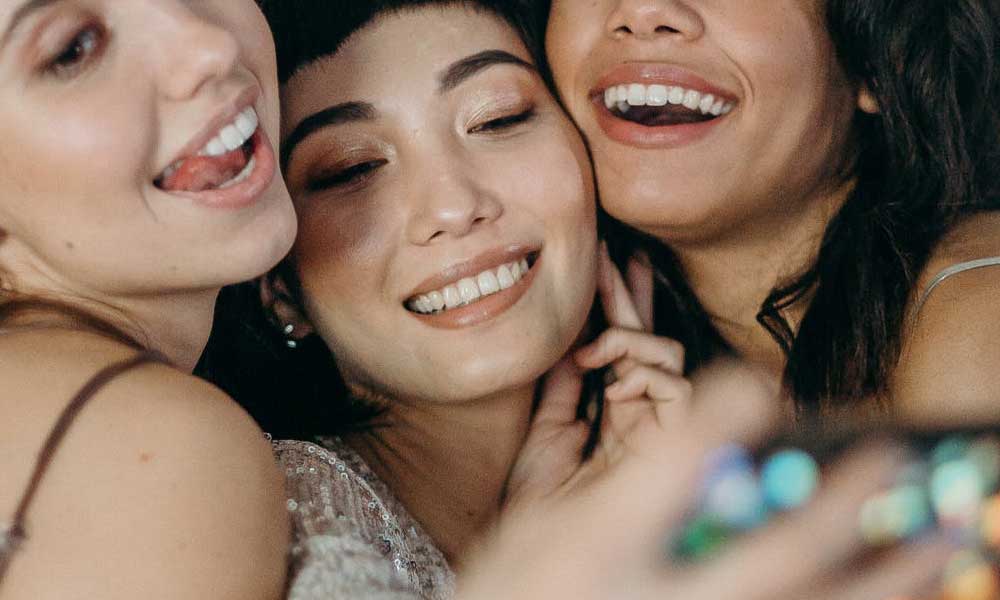 Make it Happen Quick
Time is of the essence when taking a group photo at parties and weddings. Plan to get your group selfie early on, before everyone scatters or gets too wild. Give everyone a fair warning about the photo and try and get it over with as fast as possible.
Consider using the burst mode on your phone to take a variety of pictures to choose from.
Use a Countdown
Using a countdown or timer is a must when taking a group photo. This gives everyone a chance to get into position, make the face they want, and blink a few times beforehand. Plus if there's quite a few people you want to get in the photo, using a timer will be easier than arguing over who has the longest arm.
Get the Key Players Involved
If you're at a party, you'll definitely want the key players involved in your group shots. Try and grab a selfie with the bride and groom or person celebrating their birthday. After all, they're the stars of the show.
Be respectful of the fact that everyone is probably vying for their attention. Get a quick selfie, come up with some great captions, post it with the event hashtag, and let them enjoy the rest of the evening.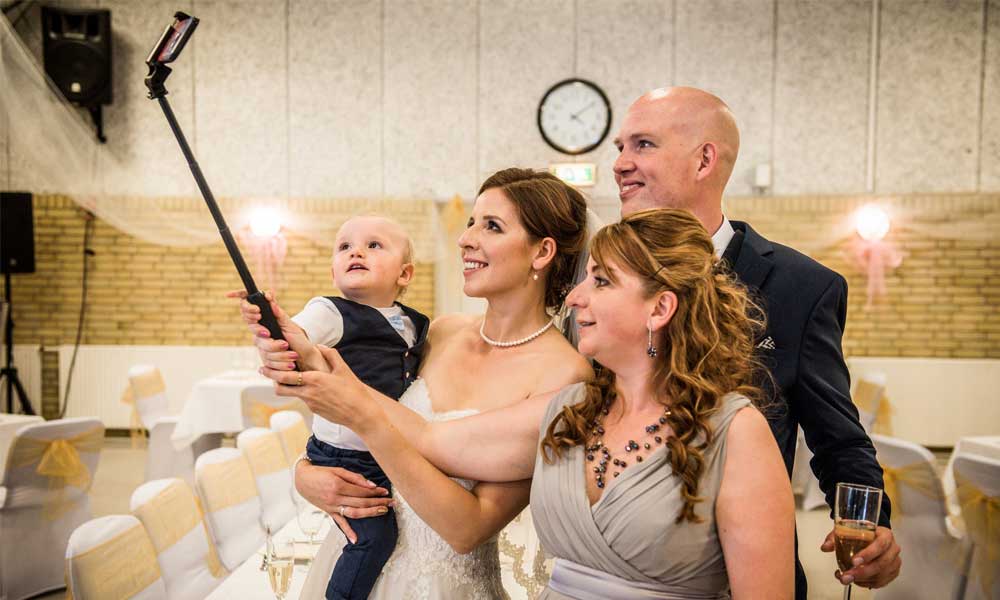 Avoid the Arm Shot
Distance is important when taking a selfie, especially for group shots. When taking a group selfie, give the phone to the person with the longest arms and position them either slightly in front of the group or to the side.
Angles are the key to making this work. Use a slight tilt to ensure that the extended arm isn't in the photo. While selfie sticks are a point of contention for many partygoers, they're perfect for avoiding the arm shot when taking a group selfie.
Use a Mirror
Lots of venues have large mirrors to help make the room seem larger or capture natural lighting. Instead of trying to angle everyone into a photo, gather them in front of a mirror for the perfect group selfie. Is it really a party if there's no bathroom mirror selfie?
We hope our guide on how to take group photos and selfies helped simplify your group party shots. Of course, if all else fails, you can always ask someone else to take the group photo for you, but where's the fun in that?
Looking for a selfie camera? The new Olympus OMD EM10 Mark IV will take your selfie game to the next level.