3 Top Tips to Taking Better Photos in 2017
Wow - just where did Christmas go? It feels like only two minutes ago that we were putting up the decorations in our Sheffield store, and now it's time to take them down again!
Like most, January has probably made you think about what you can do better in 2017. If, like us, the subject of photography has crossed your mind, here our our top three tips on taking better photos in 2017. Enjoy!
Go back to basics
We're sure you'll have heard of the rule of thirds, but if not we're going to reiterate just how important it is when it comes to photography.
The rule of thirds is all about taking a step back and evaluating your positioning before taking a shot. If you divide the image down into thirds, both horizontally and vertically, this gives a grid on which to position your subject.
The photo below is a great example of a shot that incorporates the rule of thirds. It's been proven in studies that people's eyes tend to travel to one of the intersection points rather than the middle when they look at photos.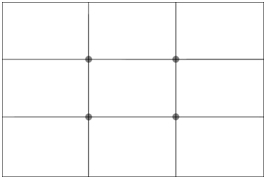 Change your angles
If you're wanting to take incredible shots yet you're stuck in the same, classic face-on photography pose, we're willing to bet that's one of the ways you're going wrong.
It doesn't matter if you're a beginner or a pro, you need to be prepared to get both high and low for the sake of taking fabulous photos! We have known photographers who carry small carpets or blankets around with them on shoots - you just never know when you're going to have to get down low for that perfect shot.
If your camera has a viewfinder that moves around, use this to your advantage to explore potential shots without the need to get down on the ground or up on a chair or ledge.
Lighting is key
It's important to make sure that your subject is well lit. On bright sunny days, always be aware of the light. Shooting directly into it will darken out your subject but can achieve artistic-looking silhouettes when done well. However shooting at midday when the sun is overhead can create unsightly shadows under the eyes, and age your subject considerably.
Cloudy days may seem a little bit miserable, but they're ideal for portrait shoots as the light is less harsh. Don't dismiss them, embrace them!
Try to keep your horizons straight, as a tilted horizon in the backdrop can have a negative impact on the overall photo. However, don't be afraid to experiment and counteract the tilted horizon by using a dutch tilt
Reflectors are an extremely cost-effective way to manipulate the lighting for the better - why not try one and see how you get on?
Remember that practice makes perfect, and the more photos you take the better you will get at judging the above. Good luck, and be sure to share your photos with us by entering our monthly photo competition.