Beginner's Vlogging Equipment Kit Guide
Ever fancied yourself as a vlogger or video content creator but didn't know where to start in terms of camera equipment? Then look no further because our extensive beginner's vlogging equipment guide is here to help. Whether you want to become a video game live streamer, make daily vlogs or simply want to help promote your business or brand online with video content, Harrison Cameras has all the video and vlogging equipment you could ever need. Covering everything from cameras and microphones to lighting and stability, as well as everything in between, this guide will tell you everything you need to know and more about vlogging kits.
Types Of Vlogs And Video Content
Video is one of the most engaging and popular forms of content in the world. From video tutorials created by businesses to entertainment videos produced by Youtubers, there is a video for everyone and everything. Explore the different types of video content and see if vlogging could be for you:
Online training: With many people now working from home it can be a challenge to train new and existing staff members. Recording training videos is an excellent way of keeping your team up to date with changes to the business and allows them to revisit sections of the training if needed.

Product guides for users: If you offer a service or a product video guides can be a great way to share additional information on how to get the most out of what you have to offer as well as quickly share insight into new product launches.

Social media videos: Whether you're a business or just enjoy creating fun content, social media is a great place to share your videos and can help drive users to your website or channel.

Daily vlogs: Daily vlogging is a great way of capturing your day and can even be used as a digital diary. Influencers are famous for their daily and weekly vlogs as their followers just love to see what they get up to.

Gaming videos: Video game streaming has become extremely popular in recent years with a record 1.2 billion viewers watching video gaming content in 2020 alone.

Documentary videos: If journalism is more your thing then a documentary video is the perfect way to get your name out there.
Benefits Of Video Content
Whether you're a business or an individual there are so many benefits to vlogging and creating video content:
Can help you reach a wider audience

Can help you feel part of an online community

Can drive additional traffic to your website

Encourages you to get creative

Gives your audience easy to digest information

Helps promote your business, services or products

In some instances vlogging can earn you money and even become a career

Broadens your creative skill set
Vlogging Equipment Essentials
Camera
With so many cameras to choose from at so many different price points it's hard to know which camera is right for you, your experience and what will provide you with the highest quality footage. From DSLRs to Mirrorless cameras and everything in between, the possibilities are endless. However when choosing a camera it's important to choose one specifically with video capability in mind. To make things easier we have listed 3 different cameras to suit a range of budgets and expertise. Alternatively, view our full range of cameras here.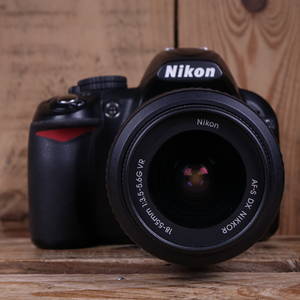 The Nikon D3100 is an excellent entry level DSLR with plenty of features and functionality for those who want to get their foot in the world of photography and videography. As this particular model is part of our used camera range it comes at an even more affordable price. Featuring a 14.2 MP DX CMOS sensor that is capable of great image quality, full HD video recording capabilities and a solid autofocus system, the D3100 is an ideal choice for budding vloggers. Lightweight the Nikon D3100 is perfect for handheld shooting and its compact design makes a great choice for those taking their camera on location. Capable of recording full HD movie clips (1920 x 1080) with sound the Nikon D3100 is able to take superb quality footage day or night. Not only that but the Nikon D3100 also offers live autofocus during video recording meaning you can easily track a subject without losing focus. Compatible with a range of lenses, the Nikon D3100 is perfect for experimenting and exploring different types of content creation.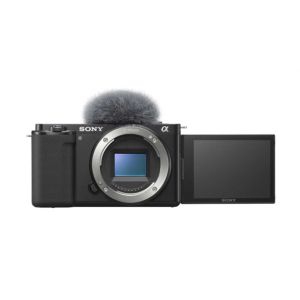 The Sony Alpha ZE-E10 is an all purpose vlogging camera with quick and intuitive vlogging operations with a touch capable swivel screen. Featuring face auto-exposure to help provide users with a bright face even in dim light and a bokeh switch to blur the background, this camera is perfect for vlogging style videos. While most cameras don't come with a microphone, the Sony Alpha ZE-E10 comes with a directional microphone and windshield included so you can clearly capture your voice while recording no matter the surrounding noises. While the Sony Alpha ZE-E10 is compatible with a range of other microphones, the fact that this camera comes with a microphone included makes it an excellent choice for those starting out in the industry. Not only is the Sony Alpha ZE-E10 compatible with other microphones but it's also compatible with 60+ sony lenses allowing you the freedom to explore and experiment with different styles. Furthermore the Sony Alpha ZE-E10 records video content in 4k with a real time eye auto focus (AF) system to track the subject's eye so that the image remains in focus. If you're looking for a camera that can both take beautiful photos and record quality video content at a reasonable price, then the Sony Alpha ZE-E10 is for you.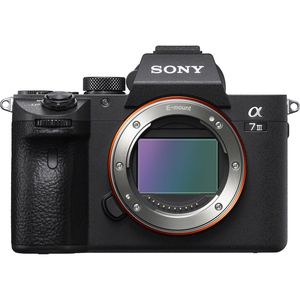 The Sony A7 III is a mirrorless camera that has excellent capabilities for both photo and video applications. Much more compact than a DSLR, the Sony A7 III mirrorless camera allows you to interchange the lens giving you more choice with the type of content you capture. Not only that but it has the power, precision and flexibility to capture in the moment video content. Featuring a fast hybrid autofocus system that offers quick, silent and accurate autofocus, the Sony A7 III can automatically capture moving subjects such as dancers, boxers and animals. This can come in really handy for videographers, especially when there is a lot of contrast in the background and foreground. In addition, the Sony A7 III can record video content in high-resolution 4K HDR format and allows users to set different picture profiles to grade footage as much as they want in post-production. Featuring a reliable battery that lasts 210 minutes along with an array of connectivity features including USB ports, microphone port, headphone jack, hot shoe, wifi, bluetooth and NFC, the Sony A7 III is an all round excellent camera for photography and videography.
Microphone
No matter what camera you use whether it's a video specific camera, DSLR or Mirrorless camera you're going to need an external microphone. External microphones are much better in terms of sound quality in comparison to your camera's internal microphone and it gives you much more freedom of movement with microphone placement. There are lots of different microphones to choose from including shotgun, wireless, stereo, bidirectional and omnidirectional. Depending on the type of video content you'll be creating you may need different types of microphones such as lavalier or lapel mics. That being said, a versatile microphone is probably the best choice for beginners. We stock external microphones from some of the best brands in the business including Canon, Sony, Dorr and much more.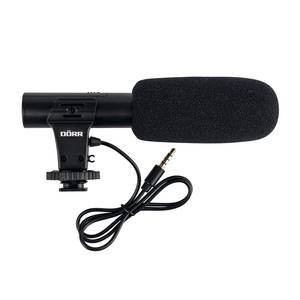 The DÖRR CV-02 is a compact directional microphone that effectively reduces annoying ambient noise which can occur on the sides or behind the microphone. The versatile condenser microphone is perfect for holiday videos with the family, reports, animal films or video clips for YouTube etc. With only 35g the microphone is extremely lightweight and ensures high mobility. The universal hot shoe allows you to mount the DÖRR CV-02 quickly to camcorders, DSLR and compact system cameras with hot shoe mount. Perfect for those wanting to try out vlogging for the first time this £19.99 budget friendly microphone is a must have.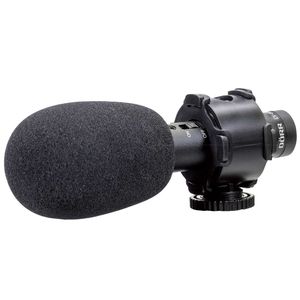 The Dorr CV-04 Stereo Directional Microphone is a compact and lightweight mic which comes in a sturdy metal housing and provides high-quality stereo recordings of excellent sound quality. Compatible for use with DSLR and DSLM Cameras as well as camcorders, the Dorr CV-04 is an excellent piece of kit. The rubber shock mount absorbs camera noise and vibrations and it features a universal accessory mount with 1/4" screw mount and external microphone socket.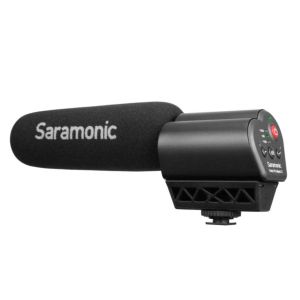 The Saramonic Vmic Pro Mark II is a battery-powered advanced on-camera shotgun microphone that delivers detailed, full-frequency, broadcast-quality sound to DSLRs, mirrorless cameras, video cameras, recorders and more. Ideal for advanced content creators, filmmakers, journalists and vloggers looking to take their audio to a higher level. It features a supercardioid polar pattern that provides ultra-focused directionality and excellent off-axis rejection of audio from sides and rear. The Vmic Pro Mark II features an array of selectable audio controls that allow users to tailor the mic's sound and performance to always get optimum sound. This durable microphone is ever so robust and is a must for the demanding world of video production. Furthermore the Saramonic Vmic Pro Mark II has an integrated shock mount that isolates unwanted vibration noise and includes a camera-shoe mount with metal 1/4"-20 thread. Allowing you to easily mount it to cameras, boom poles, stands, camera cages and tripods with ease.
Lighting
For indoor shooting or just general consistency it's a good idea to consider the lighting set up of your vlogging equipment. Whether you're recording at home, in a studio or on location, great lighting can take your footage from ammateur to professional. Check out our top three vlogging lighting picks.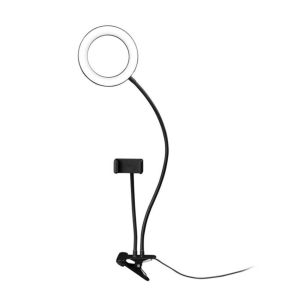 This versatile LED selfie ring is an ideal video light for tutorials, self portraits, beauty videos and vlogging. The soft light evens out uneven skin tone creating a natural yet flattering finish to your videos. The selfie ring light has 3 light modes including cold light, mixed light, warm light and the brightness can be dimmed by 10 levels giving you choice and your filming more versatility. Easy to install and set up the Dorr LED Selfie Ring also has a smartphone holder and table clamp with flexible gooseneck allowing for flexible movement and positioning. The smartphone holder can also be unscrewed to attach a digital camera or microphone allowing for a simple yet professional set up.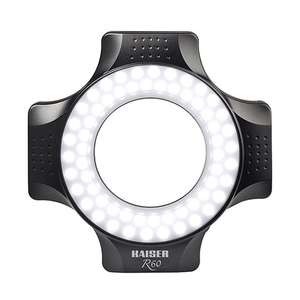 The Kaiser R60 Ring Light is the ideal light for versatile videography. The light simply attaches to the end of your lens using an adapter which is included with the light. The Kaiser R60 is a powerful LED ring light with 60 daylight LEDs and a colour of 5600K that provides a soft and natural light that can be dimmed and brightened depending on the filming conditions. Compact, lightweight and easy to use, the Kaiser R60 is a must for those who wish to film indoors and on the move. Powered by four AA batteries this video light is an excellent choice for beginners.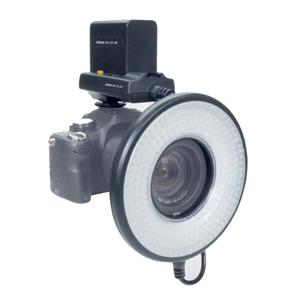 The Dorr DRL-232 LED Ring Light with Battery Box is an ultra bright LED ring light with variable brightness adjustment. Ideal for photography and vlogging the Dorr DRL-232 can be attached to the lens or a tripod allowing for more versatility. Perfect for creating a stunning lighting setup for vlogging the Dorr DRL-232 LED Ring Light will transform your footage. The placement of the LEDs ensures shadow free illumination for close ups and the ring light can be positioned above or beside the lens to create a three dimensional illustration lateral shadow. Adaptable, diverse and easy to use the Dorr DRL-232 LED Ring Light is a must have for vlogging enthusiasts.
Tripod and Cameras Support
In addition to having the right camera, microphone and lighting set up you should also consider how you're going to support your camera e.g. a tripod. While many vloggers are often seen holding their camera in their hand this can be quite tiring and isn't the best idea if you're going to be filming for long periods of time or if you want to create a professional looking video.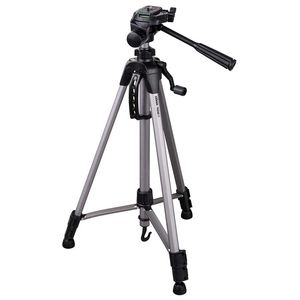 The Dorr Friend IV Aluminium Tripod is an excellent option for those starting out in the field of videography. Affordable and lightweight this tripod features 3 sections, 2 extensions and one-touch leg logs. In addition, the Dorr Friend IV Aluminium Tripod has a centre column with crank and handle has a hook on the bottom to attach additional weights to hold down the tripod in different terrains and outdoor conditions. Supplied with a 3-way panhead for horizontal and vertical shots with a 1/4" quick release plate, this tripod is easy to use, transport and store.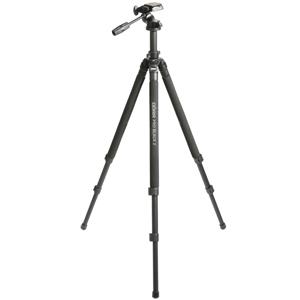 This is a really dynamically designed tripod, complete with a versatile ball and socket head for accurate positioning of camera gear. Sturdy and easy to set up using the flip locks, this 4 section tripod will extend to a comfortable 155cm and has a three angle tilt set. The rubber tips give excellent security on rough ground, but the legs also have spikes on the end for mud, snow or generally soggy ground. The rubber foam grips on the legs make them comfortable to hold and the spirit level on the ball head, ensures absolutely straight horizons.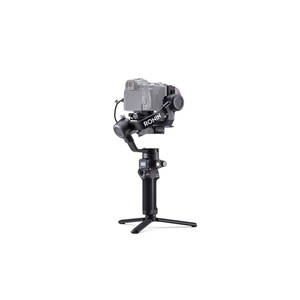 Achieve professional level results with the DJI RSC 2 tripod. This compact stabiliser for mirrorless and DSLR cameras features a foldable design and intuitive features, empowering filmmakers, one-man crews, and content creators everywhere. DJI RSC 2's foldable design means easy transportation and storage, along with expanded shooting options. This is the ultimate all round tripod for experimenting and getting creative. The DJI RSC 2 Titan Stabilisation Algorithm captures smoother footage than ever and its SuperSmooth mode compensates for micromovements and increases torque, stabilising even 100mm zoom lenses. Ideal for capturing moving shots as well as for using as a traditional tripod, the DJI RSC 2 will help you capture a vast array of shots.
Equipment Bag
Now that you know what to include in your vlogging kit, it's important to keep all of your camera equipment safe and in good condition. Whether you're shooting at home, in a studio or on location a camera bag should be an essential part of your kit. From shoulder bags to backpacks there are a vast range of camera bags and accessories to choose from.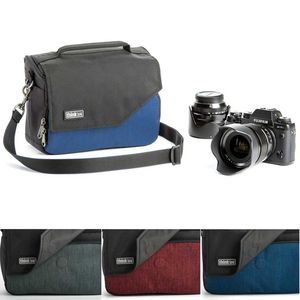 For something practical, affordable and stylish, the Think Tank shoulder bag is a great starting point. Available in 5 different sizes and 3 different colours, this bag can be as versatile as you need it to be. The varying range of bag sizes means that the bag can hold anything from a small body camera and small lens to a large body camera, 2 - 4 lenses, a 10" tablet and accessories. Furthermore the adjustable dividers including smartphone and memory card slot provides a customisable fit for your specific gear combination. In addition, the easily accessible front zippered pocket allows room for small accessories and an internal mesh pocket on the lid provides room for a battery or other compact accessories.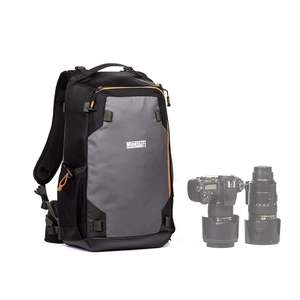 The Mindshift Gear PhotoCross 13 Backpack is a great choice for anyone regularly transporting their equipment especially if you plan on shooting outdoors. The PhotoCross is built to withstand the elements, yet comfortable enough to wear on long days in the field. The extra-large side panel also gives you complete access to your gear when you're ready to take the shot. Waterproof and made from durable materials that provide abrasion resistance, this backpack will ensure that you and your vlogging equipment get to where you need to be safely. Not only can this bag store all of your video equipment including camera body, lenses, battery packs and laptop but it also features tripod straps, allowing you to keep your hands free at all times.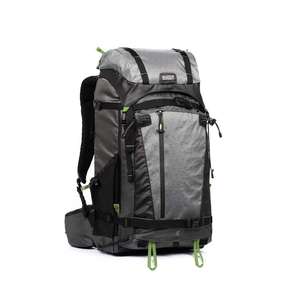 The Mindshift Gear Backlight Elite 45L Backpack is a superior photography and videography backpack ideal for a range of activities. Stormproof, waterproof and tear proof this backpack is designed for endurance. With 45L of available space the Mindshift Gear Backlight Elite has ample room for your camera, laptop, lenses, tripod, tablet, battery packs, camera accessories as well as all of your other gear and essentials. Capable of withstanding the harshest of conditions, multiple compartments and comfortable fit, this camera bag trumps all other camera bags.
Conclusion
We hope our extensive video equipment guide has helped you gain a better understanding of where to start with your vlogging kit. For more advice on our camera and video equipment visit our contact us page.