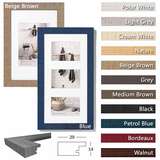 Walther Home Wooden Picture Frame - Lots of Sizes and Colours
Real Wood Photo Frames
Rough-Sawn Finish
29mm Width, 14mm Depth
Available in Single, Panoramic & Multi Gallery
Glass Front
Many Colours and Sizes to choose

Complete with a free insert. As you select your size, you'll see there are two. The first size is the actual frame and second is the insert.