Description
Get close with this palm-sized 12MP, Full HD camera. With one lens boasting 100mm and 400mm plus a digitally extended 800mm, this tiny fully auto PowerShot is ideal for families who love outdoor adventures, wildlife and for casual birdwatchers.
This pocket-sized super zoom camera sits unique in the range offering a 100mm or 400mm1 focal length plus a 2x digital zoom to expand the reach to 800mm. With image stabilisation and USB charging, it is perfect for families enjoying outdoor activities or the casual wildlife enthusiast looking for a compact digital camera to view or capture a quick memory.
A pocket-sized PowerShot that always gets you close
Get closer on family adventures or when capturing wildlife. The 3 step zoom with great optical magnification will allow you to catch moments even from 100s of meters away.
A sure and steady view. Always
Record in Full HD or take 12 MP stills to get great results thanks to a 4-axis Optical Image Stabilizer and less eye fatigue with Powered IS using 2.36 MP viewfinder.
Uniquely portable. Uniquely discreet
With its small size, USB-C charging and generous operating time, it's ideal to keep in your pocket or on your wrist for those must-not-miss family or wildlife moments.
Instinctive control
With full auto control, the camera extends your view in beautiful simplicity. See clearly through a bright viewfinder and easily change basic settings in the simple menu.
Connect and share your experiences
Share the live view from the camera and save memories via the Canon Camera Connect app. Link with Wi-Fi and geotag your images via Bluetooth® link to your smartphone.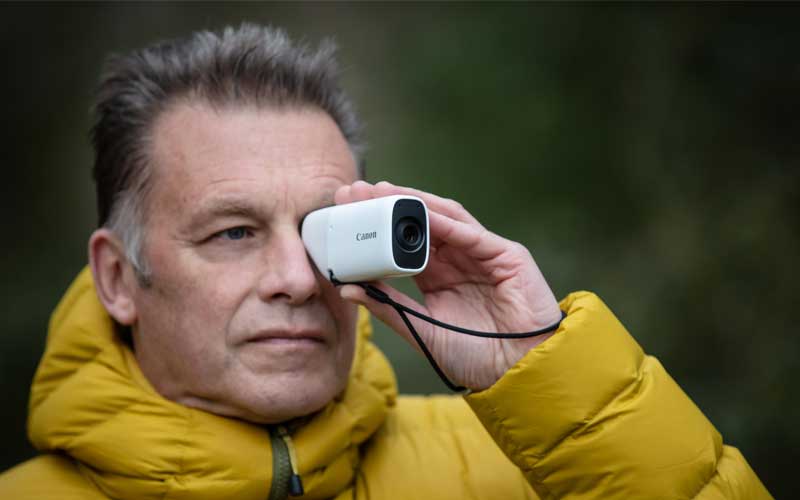 'The Canon PowerShot Zoom is a great addition to any modern naturalists pocket. Its lightweight, easy to use and has the power to make the distant very discernible. Its the perfect telephoto partner for your smartphone where its movies and images are really easy to see and share'.
Chris Packham