Description
Unleash your creative potential with high-level performance and advanced features such as AI-powered Real-time Eye AF; new, high-precision Real-time Tracking; high-speed continuous shooting and 4K HDR (HLG) movie-shooting.
Fast continuous shooting with AF/AE at up to 11fps
Never miss a moment of the action thanks to fast internal processing and high-capacity buffer memory. Fire off shots at up to 11fps with after-view or 8fps for live-view, with minimal display lag, and take up to around 116 shots in JPEG (Standard) or 46 shots in compressed RAW format in one continuous burst.
Silent continuous shooting at up to 8fps
When your shoot calls for absolute quiet, such as when you're photographing a live performance, silent shooting with no shutter noise allows shooting at up to 8fps with AF/AE tracking, even in AF-C mode, with Real-time Eye AF, or with Real-time Tracking, expanding your range of shooting options.
A 24.2-megapixel sensor plus enhanced image-processing engine
The APS-C sensor features copper wiring and enhanced circuit processing that aid in boosting light collection efficiency. In conjunction with the image-processing engine, this helps achieve superior image resolution and more natural depiction of textures.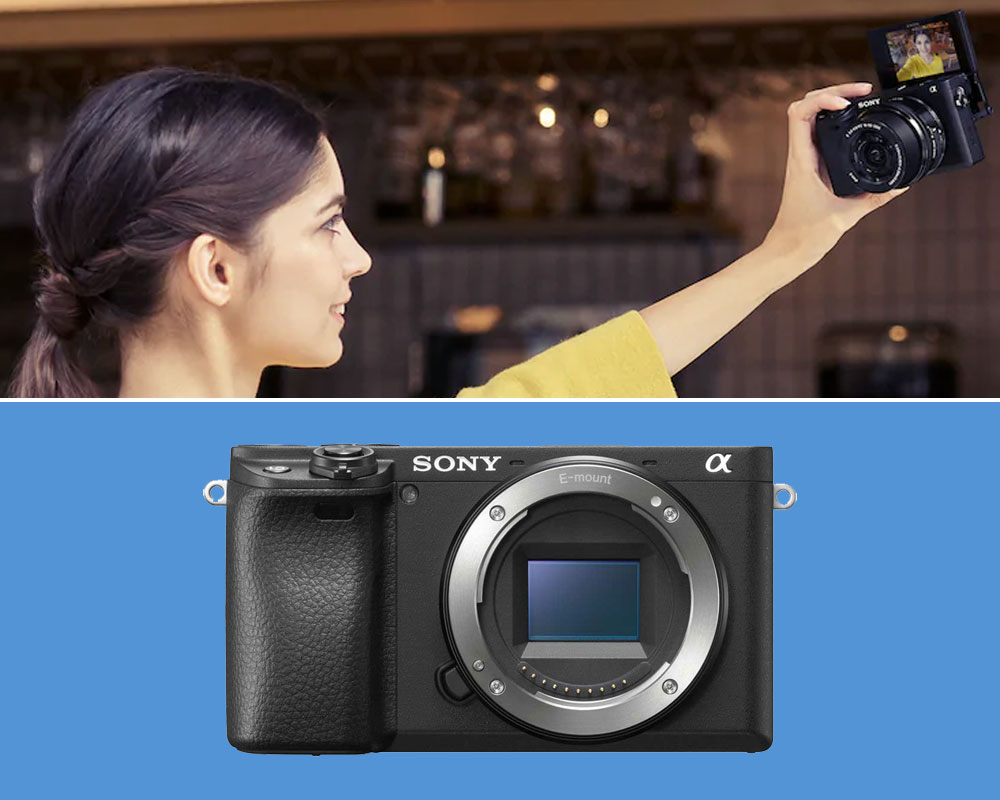 Cleaner images even in dim light
Improved noise suppression has led to cleaner image quality, even in dark scenes where high-sensitivity shooting is required. The native ISO sensitivity has increased to a maximum ISO 32000 (with expanded ISO sensitivity at a maximum ISO 102400 for stills). Noise reduction is particularly effective in the frequently used medium-to-high sensitivity range.
Creative movie production
From full-pixel readout without pixel binning enabling high-resolution 4K movie recording to HDR (HLG) and S-Log/S-Gamut options and Slow & Quick Motion recording, the α6400 is loaded with advanced capabilities to support your movie-making creativity.
High-resolution 4K recording
Super 35mm format recording with 2.4x12 oversampling results in 4K movies (QFHD: 3840 x 2160) with extraordinary image quality.
A high-resolution LCD monitor with handy touch-screen functions
The 3.0-type, 180-degree tiltable LCD screen does more than just display the scene in front of you - it gives you quick control over a number of the camera's functions, with a variety of intuitive touch operations. The Touch Pad function allows you to smoothly move the current focus position while you're looking through the viewfinder. Simply slide your finger across the monitor until you find the desired point you want to focus on.
E 18-135mm F3.5-5.6 OSS (SEL18135)
This is an extremely versitile lens, with a fantastic zoom range in a lighweight and compact body. The edge to edge detail from this lens is impressive and the fast auto focus is quiet which is perfect for weddings, christenings or any event, where a noisy lens motor can distract the proceedings. It also means that video footage can be taken, with the same quiet motor. The lens not only gives a brilliant zoom range, but its close focus facility is a mere 0.45m (0.29x maximum magnification), making it really easy to get a close up shot. The circular nature of the aperture means that background blur is not difficult to create and the ED lens and two aspherical lenses mean pin sharp images every time.