Description
The Neutral Density Set contains graduated resin filters that enable the photographer to adjust exposure over part of the photograph without effecting colour balance.
Exposure can be controlled by 1, 2 and 3 stops. For example, when photographing a landscape in which the sky is much brighter than the foreground, placing the Neutral Density part of the filter onto the sky in the frame will reduce the sky exposure without effecting the foreground. This enables cloud detail to be kept correctly exposed and avoids the "white out" effect caused by exposing for the foreground.
Available in a range of gradations between the coated and clear areas of the filter giving precise exposure control in a range of situations:
Soft Grad Filter
The Soft graduated filter balances exposure between different parts of the image where there is no definite line of transition or obvious skyline, for example woods, open ground, buildings, water or mist, and has an extra slow rate of transition on smaller sensor sizes.
Medium Grad Filter
The Medium graduated filter has a more defined transition. It's soft enough to use over many smaller obstacles in the horizon area but gives the chosen density in the area you need it which is often close to the horizon. Good for general use with APS-C size sensors.
Hard Grad Filter
The Hard graduated filter is ideal for balancing exposure between the sky and land where there is a sharp horizon. It will also give very precise control over the area of the picture to be held back in many other circumstances: Lee also recommend this as the standard grad for small sensor sizes.
The Lee Filter System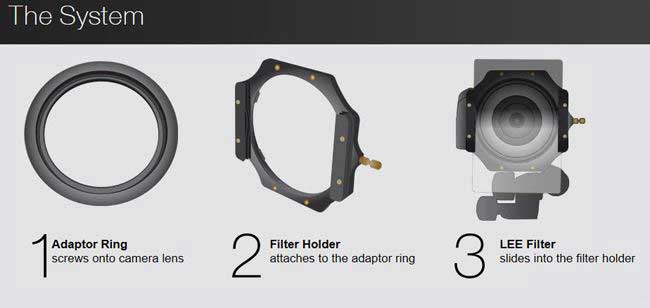 The Lee Seven5 Filter Holder & Adaptor Ring is needed to use the system.