Description
Whether you are taking stills or recording video, the LEE100 Hood's flexible design offers shade to cut out unwanted glare and light. The lens hood is easily installed on the LEE100 holder via clipping onto an attachment ring that can be conveniently left on the holder if the hood is often used. The hood can be fitted onto the holder with either the one, two or three slot filter guide configuration plus polariser.
Furthermore, the hood can be independently rotated from the filter holder, leaving you free to angle a filter as needed without concern about impacting the position of the hood. Designed to be self-supporting with no need for additional guides or rails, the hood can be tilted to various angles to offer precise shading from any side lighting or glare hitting the lens. When working outdoors, the water-resistant hood also provides the filters and front of lens some protection from light rain and drizzle.
The accordian-like hood is easy to collapse for storage in the provided clam shell case. As an approximate guideline, a fully extended hood on a holder configured for 2 slots can be used at around 28mm on a full frame sensor without vignetting; when half extended, a wider angle of view can be afford at around 20mm.
The Lee Filter System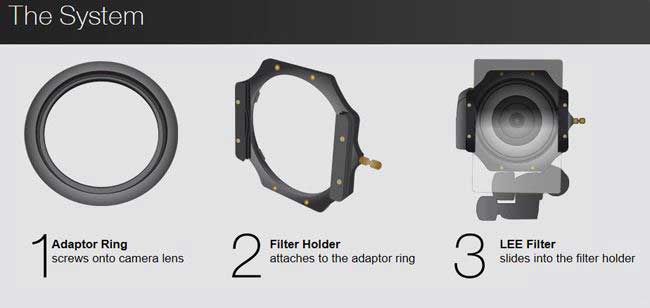 LEE100 Holder & Adaptor Ring needed to complete the system.