Description
The FUJINON XF50mm F1.0 R WR will allow you to experience sharpness like you have never seen before. Free from vignetting and the ability to control aberrations, creates precision with extremely creamy bokeh. Auto focus on this F1.0 lens is effortless and the weather resistance removes any concerns that elements can cause. The XF50mm F1.0 R WR is a powerful lens that will change the way you capture the world.
The inclusion of the DC autofocus motor has allowed for quick and accurate focusing, even when at the maximum f1.0 aperture. With such a shallow depth of field, the lens also utilises the Face / Eye AF function in X Series cameras to achieve critical focus for portraits. When manual focusing is required, the focus ring offers 120 degrees of rotation to allow for precise, enhanced control with quick travel from close to infinity.
With weather sealing and an ergonomic design, Fujifilm has ensured the lens is robust to take nearly everywhere!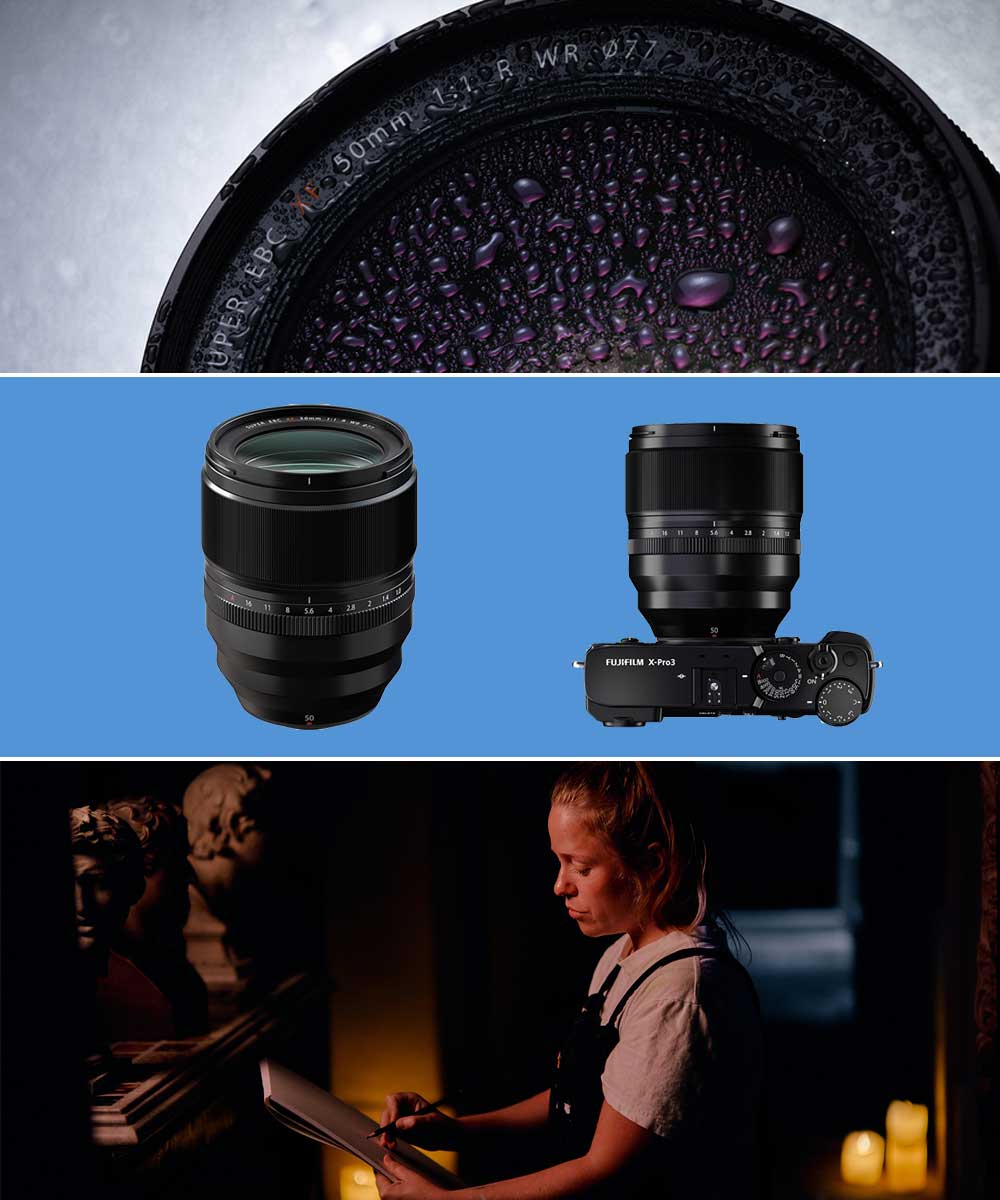 World's first F1.0 autofocus lens for mirrorless cameras
As the world's first autofocus F1.0 lens made for any mirrorless system, including full-frame, XF50mmF1.0 brings more light to the sensor than any previous XF lens, making it possible for the autofocus to operate at -7EV luminance level. The previous limit of -6EV luminance level was achieved using lenses with a maximum aperture of F1.4, X Series users now have fast and precise low-light autofocus, even in near-darkness.
With the added benefits of on-sensor Phase Detection Autofocus (PDAF), Face/ Eye AF and a powerful DC motor, precise and fast autofocus at shallow depths of field is now a possibility.
Incredible Depth of Field
The XF 50mm f1.0 R WR lens achieves optimum control of spherical aberration with 12 lens elements in 9 groups with one aspherical element and two ED elements. Using the lens at or near the f1.0 maximum aperture, this lens can produce an astonishingly narrow depth of field. Adding in a precision-engineered, rounded diaphragm you can produce large, smooth bokeh. This means the user can create portraits that have an almost 3D quality with a wonderful edge to edge sharpness with striking simplicity.
Lens Construction
The lens measures in at 103.5mm (4.07in) long and weighs in at 845g (1.86lb), making it quite compact and portable. With weather sealing in 11 locations, the lens is protected again moisture and dust as well as being capable of operating in temperatures down to -10c.
Precise Autofocus
Having a lens with an f1.0 maximum aperture allows the autofocus to operate at -7EV luminance, more than any previous XF lens. With such a low EV number, the user can shoot in near-darkness with fast and precise autofocus. The lens has a powerful DC motor and can take advantage of the on-sensor Phase Detection Autofocus and Face / Eye AF features. A further addition is a manual focus ring that is 8 times more accurate than any previous XF lens. The user can achieve precise focusing from minimum to infinity when the lens is at its super-shallow depth of field. For this, the lens uses 120 degrees of rotation in the focus ring and works with an X-Series Focus Peaking and Focus Assist modes.