A Brief Guide to Binocular Styles and Magnification
Binoculars have a knack of making a walk in the countryside, just that little bit more interesting, so here is a quick introduction to the technical side of a binocular, hopefully, without being boring!
Our eyes are brilliant, literally, so we can see really well in daylight and can process huge amounts of information regarding colour, detail and perspective, however, we can only see so far and that's where the binoculars come in. So here goes - do try and stay with me, it will be informative!
Roof Prism: Generally more compact, generally more robust and yes, 'generally' slightly easier to hold, because they are more compact
Porro Prism: Slightly Larger, produce brighter images and on the whole, are less expensive.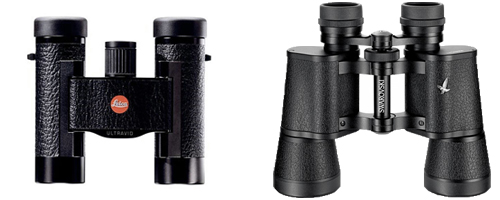 Binocular companies manufacture the glass with and without coatings, so if it says coated or multi-coated on the box, it means that additional coatings have been added in the glass manufacturing process, to help light gathering power, durability of the glass and stray light reflection. Some binoculars have coated surfaces on the air to glass surfaces only and then others go the whole hog and are coated front, back and inside out, which makes them fantastic for looking through but also very expensive; but as they say, "You get what you pay for"
Binocular models explained.
The first number on the binocular is the magnification, so 8x, 10x 12x etc and then the second number is the objective lens size, that's the bit at the opposite end to the eyepiece, so that can be anything from 21mm to 50mm etc. Now light is really important when seeing. How many of us have fallen into the wardrobe when grappling in the dark late at night? The more light you can get to the back of your eye the better, so in a perfect world we would want all binoculars to have an objective size of at least 50mm, but of course, this makes them large and heavy to carry. So manufacturers have worked really hard to meet a demand for high quality binoculars in a compact style. Swarovski and Leica, do an amazing range in 8x20mm and Hawke and Viking have similar styled binos, which are possibly a bit more affordable, although remember, you will end up keeping them for life, so it's always good to spend as much as you can in the initial purchase.
More Magnification isn't Necessarily Good
It is always tempting to get the highest magnification in binoculars, because logically, you would think that the more magnification you have the better the image. Well according to science and possibly a very, very long formula, the more magnification you have, the less light reaches the eye. So in the day to day world of binoculars, 20x binoculars, may sound fantastic, but unless the objective lens is really big, the image will be less clear than if you have a 10x42mm pair. If you want to magnify that sort of distance, then go for a spotting scope, as these are designed for long distance work.
In a nutshell (or blog) that's it!