Manfrotto Xume Lens Filter System
Stroke of Genius
Over the last 6 months Manfrotto must have had a rush of blood to the head, as they have come up with an absolute stonker of an idea, with their new Xume Range of filter holders and adapters.
I don't know about you, but I have always found it a very tedious process, screwing and un-screwing filters from the front of my lenses, especially when the thread has been cross-threaded and you have to go rummaging in the kitchen to find one of those flat, rubber bowl covers in order to get a good enough grip to remove it. Well, throw the rubber lid cover away, because this is the answer to all your dreams; simply leave an adapter on the front of your lens and then magnetically attach the filter to it .................. what could be easier?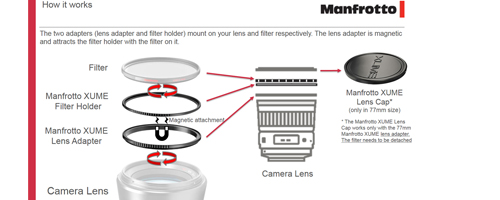 Now, I know what you are thinking, 'not another adapter to lose' but think not! This one simply stays on the lens, so can't get lost and then the magnetic ring screws into the filter; hey presto filter to adapter ring, magnetically, what's not to like?. The best thing about this system though, is that you can just attach an XUME filter holder to all of your filters and leave it on, then snap the filter onto the front of the lens when needed. The quick release aspect of the filter saves time and the slim profile, ensures no vignetting (shady bits around the edges of the image). They come in sizes of 49mm up to 82mm (no 55mm though), so a huge range covering most lens filter thread sizes and of course, they have been manufactured to Manfrotto's usual high standards.
If you would like a demonstration of the system please call into our store and ask one of the very nice members of staff to show you how it works, they are very knowledgeable and love to show their skills and knowledge on new products.