Leica M10 Firmware Update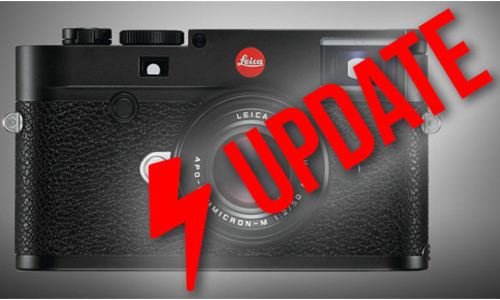 For all of you selected few, who have managed to bag a Leica M10, this is really good news and for those of you who haven't, the next batch of cameras should have automatically been updated, so will save the hassle, I think that counts as a win, win!
It a sign of the times, that products, including cameras can now be updated regularly, to keep up with fast moving technology and customers requirements and although it may feel that the product isn't quite 'finished' when it is first launched, updates are an excellent idea and give the products more longevity.
Only a month after the release of the M10, we are delighted to see that Leica have obviously listened very carefully to all the feedback on the Leica Forum, from the discerning Leica photographers and released the first Firmware update version 1.3.4.0, to address a few niggling issues that have come to light. Things like quick access to the main menu, page by page scrolling using the menu button and shorter blackout time after capturing in Live View mean that the camera is more responsive and the addition of two more 'favourites' gives additional customisation options.
It's really easy to download with instructions provided and it takes minutes to do. Once in the camera, the camera will function basically as before with the addition of the updates, so don't worry about downloading and thinking it will all go horribly wrong, downloads have improved enormously over the years and the only difference will be the improvements that will make using the camera easier.